Image removed due to graphic nature

One of the many tenticals of the corrupt criminal empire known as the Roman Catholic (cult) Church is Cardinal Bernard Law. He died at the ripe old age of 86... and I would add, not in a prison where he belonged.

Mr. Law is reportedly responsible for protecting pedophile priests within the Catholic Church by, "Transfering abusive priests without telling the parishioners or law enforcement." Law's concerns were more of the cult faith "Christianity" and their money than the victims (children) and followers.

If you have information on any of these pedophile priests that are being protected by the Pope... (the one standing next to God), please contact Scrupulosity Inc. at the address on the bottom of this email.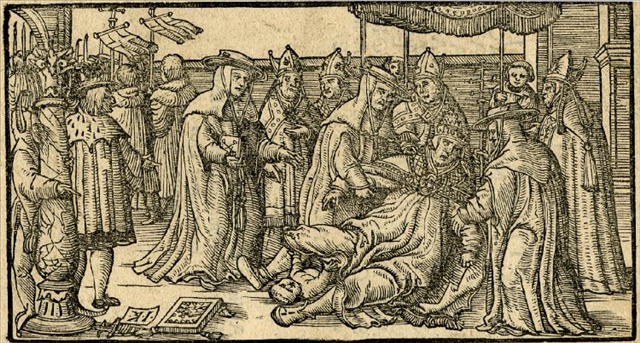 The First Female Pope

Pope Joan reigned in the 11th century, she had concealed her gender until she unexpectedly gave birth in the street. As she lay in the street giving birth she was stoned to death, along with her newborn child. All records of her have been neatly removed from Christian history and this type of rewriting history still happens to this very day. All the past Pope's images are carved in foundation pillars in the archives of the Vatican, but one face has been badly damaged... Joan's.

To this day the religious processions from St. Clement's church to the colosseum on a street once named Via Sacra (the scared way), are now avoided. Instead, they walk the long way, never traveling down the street where Joan and her newborn child were brutally murdered. The street has been renamed Shun Street by the locals. Her and her child's bodies were treated with such hate and distain that it was ordered that they should be removed from the streets and fed to the pigs.
Comment:
Why any woman would want to join this white male religion/cult is beyond me. Find another God if you are that weak.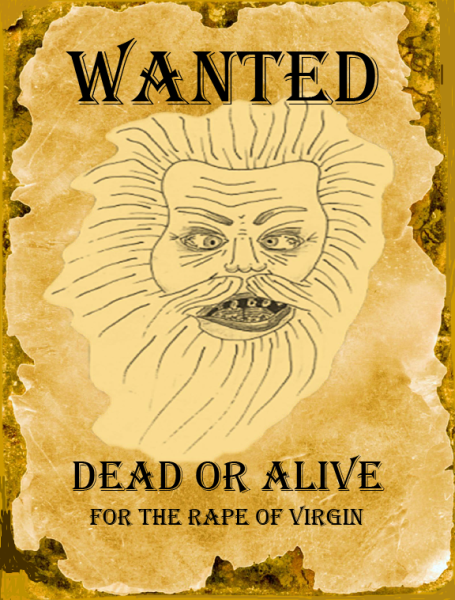 Have you seen this man?
Composite drawing from victim of rape.
-------- ALIAS' -------
Yahweh (YHWH), Tetragrammaton, Hashem, Jehovah, All Mighty, Burning bush, Lord, God, Father of the King of Jews
OTHER WARRANTS ISSUED:
Abandonment of a child
Dead beat dad
Lack of child support payments

Leaving another child without a decent father that can be a good influence and give guidance. A fine example of the abandonment of a child. The end result of an abandoned child could lead to criminal activity. In this case the child, Jesus (the king of Jews) was incarcerated and executed for his crimes against the Jewish state. Another fine example of Scrupulosity and the insanity found within ALL religions!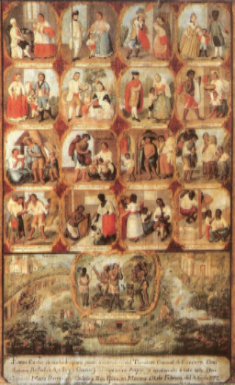 The History of Racial Profiling
Hatred of people of color has its very deep roots in a religion called Christianity. When the Spanish Christian invaded the now known land of the Americas, it brought with it a race classification known as the La Casta. This religion was forced upon the people as the Spanish Christian destroyed the indigenous gods of this land and chopped off the arms of those that would not convert.

Per these Christians, the darker the skin of the people in the newly acquired Spanish Christian lands required a socio-racial category system of purity for these religious elites from another country. The Christian church required more taxes to be paid from those with darker skin, setting up all manner of new purity hate, based upon skin color. The roots of hate led to this Christian religion.

It is believed by this Christian religion that this defect of darker skin (for some) could be bred out of its race in four generations, thereby making them pure,,, white. Black skinned people were determined (by the Christians) incapable of this transformation regardless of the number of breeding's.

It is understood that people not born into this culture of hate, based upon the Christian race classification, just don't understand. In the Americas we are taught from the earliest moments of childhood to hate all red, brown, black, yellow and ultimately in retaliatory, all white people. This hate is but one part of the insanity of this religion forced upon people.

To this day I just don't understand why anyone would call themselves a Christian. When that religion is responsible for so much misery around the world, because of its in-exhaustible corrupt need for wealth gained by any means. This must be the most destabilizing religion in the world,,, but it is hard to tell, for there are so many to pick from.
Only when we understand that this hate comes from the forced Christian religion and its manmade mental disorder called Scrupulosity, will we as a people begin to stop the hatred on all sides. With understanding and knowledge,,, their power over the masses will end. Knowledge is power,,, understanding each of the four levels of Scrupulosity, found at our website (click below) is a good step. Once you understand, you are half way to freedom from these suppressive, criminal religions.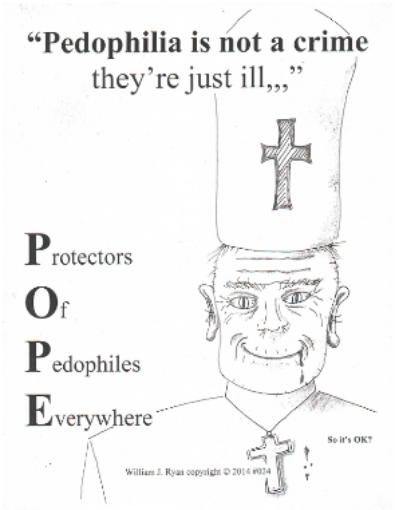 Pope defies United Nations demand to release detailed files of sexual abuse by Priests
In the article dated June 7, 2015, which can be found at this website, https://www.dailykos.com the UN had demanded that the Pope release detailed files of sexual abuse towards children for the purpose of prosecution in the country of their origin. The Pope had refused to release these files at the time and he continues to defy them to this day.

Within the Roman Catholic religion homosexual activity is a sin against God and his design. Yet, when a male child is raped by a male Priest, the priest is absolved and is required only to undertake counceling through the church. A man raping a boy is a homosexual act and yet these child rapists are protected and to some, they are even welcomed in this church.

Our primary goal at Scrupulosity Inc. is to educate the public about this kind of criminal behavior in order to help protect children.

Nearly 400 Priests defrocked for child abuse by Pope Benedict XVI
     In an article found on the website, theguardian.com, written on Janurary 17, 2014, it stated that Pope Benedict XVI defrocked nearly 400 priests for child abuse.  In the same article it stated that the church has shown a dramatic increase in priests being removed and it continues to climb because they routinely move problem priests from parish to parish instead of turning them over to police.
For more on this article follow this link:
Pope Francis:  About 2 percent of Catholic clergy are pedophiles
     According to an article by BBC News, earlier this month Pope Francis was quoted as saying that reliable data indicates that about 2% of clergy in the Catholic Church are pedophiles. The article went on to say that the Pope said that abuse of children was like "leprosy" infecting the church and that he vowed to "confront it with the severity it demands."
     Later a Vatican spokesperson said that the quotes in the newspaper did not correspond to Pope Francis's exact words.
To read more on this article follow the link below.
Chatholic archdiocese in Seattle is to pay $12 million to sexual abuse victims at 2 Seattle Schools
  Fox News published an article on June 24, 2014 that stated that the Archdiocese of Seattle has agreed to pay $12 million to 30 victims from 2 archdiocesan schools in Seattle, who had filed sexual abuse claims.  The claims were filed by men who say that they were abused decades before while attending the two schools that were operated by the Christian Brothers religious order.  The two schools involved in these claims are O'Dea High School in Seattle and the Briscoe School in Kent, a suburb of Seattle.  It was said by Greg Magnoni, an archdiocese spokesman that the Briscoe School closed in the late 1960's.  The King County Superior Court lawsuits alleged that both the Christian Brothers and the archdiocese failed to protect the students from known abusers.
     In a statement given by Archbishop J. Peter Sartain he said, "I deeply regret the pain suffered by these victims."  The lawyer for the plaintiff Michael Pfau said, "The archdiocese, under Sartain, did the right thing and acknowledged the tremendous amount of pain and suffering that our clients, their families and our community have endured.  This settlement is the first step in allowing all parties to focus on the future." 
Christian Brothers staffed schools and worked in dioceses in a number of U.S. states and in Canada.  Two groups that hold Christian Brothers' assets sought federal bankruptcy protection in 2011 due to the fact that hundreds of abuse claims were being filed against them.  Pfau also said that the men will also receive settlement money from the Christian Brothers bankruptcy proceeding.
To read more on this article follow the link below.
UN to Vatican:  Turn Over Pedophile Priests to Police
     In an article found on Business Insiders website, written on Feb. 5, 2014; it stated that the United Nations said in a scathing report that the Catholic Church continues to aid pedophile priests and should immediately turn them over to the proper authorities, since they have failed to take care of the issue themselves.  The UN Committee on the Rights of the Child, made a damning critique of the Catholic Church's attempts to shield these pedophile priests from prosecution.  The Committee claimed that numerous children had been sexually abused by the church's priests and nuns in the past and that new victims continue to be exploited.

To read more of this article follow this link:
Cardinal claims that Pedophilia is not a crime, its an illness!
An article from MailOnline stated that a South African cardinal described pedophilia as a psychological illness and not 'a criminal condition.'  It was stated that the Catholic Archbishop of Durban, Wilfrid Fox Napier told BBC Radio 5 live, "What do you do with disorders?  you have got to try and put them right. If I as a normal being choose to break the law knowing that I am breaking the law, then I think I need to be punished... 'From my experience pedophilia is actually an illness, its not a criminal condition, its an illness.'" He went on to speak of two priest that he know who were abused as children then went on to become pedophiles themselves.  The article stated, "He told the BBC: 'Don't tell me that those people are criminally responsible like somebody who chooses to do something like that.'
     It is my opinion that it is still a choice and thereby the person IS responsible.  It doesn't matter that you were abused yourself, you have no right to lay that abuse on anyone and it is against the law.  The Pope and the Catholic Church are faced with fresh child abuse controversy after the cardinals remarks just three days into his new role.                               
For more of this article visit
Penalties for failing to report suspected child abuse
     In an OLR Research Report written by Susan Price, Senior Attorney on child abuse, a survey was conducted on 50 states of the District of Columbia and Puerto Rico to identify what statutory penalties they set when a person who is legally required to report suspected child abuse willfully fails to do so. 
     They found several media reports in which some individuals were quoted as cautioning that imposing stiffer penalties on people that fail to report abuse or neglect may be overwhelming to child welfare agencies with frivolous or unsubstantiated reports. There was no empirical support for the concern.
For more on this report follow the link below.
Pope Blames Child Abuse Scandal on Society
In an article on the CBSNews website, it stated that Pope Benedict XVI told Vatican Officials that they must think on the church's accountability in it's child sexual abuse scandal and their need to accept their "humiliation."  He further went on to say that he blamed society for making the "mistreatment" of children so common and child pornography seems to be considered normal by society.  He also said, "We must ask ourselves what was wrong in our proclamation, in our whole way of living the Christian life, to allow shuch a thing to happen."
Now in my opinion, I believe that the only reason the Pope is saying anything at all is because he has been bambarded with cases of child sexual abuse and people want answers as to why it is happening so much within the Catholic Church.  To blame society for Catholic priests behavior is just trying pass off the blame on someone, anyone else.  Society did not force these priest's to do what they did.  Too many people try to pass the blame to someone else instead of taking responsibility for their own actions and this is becoming the norm.  It is a sad state when no one takes the blame for their own actions anymore.  Children are to be nurtured not victimized! 
For more on this article, visit the link below:
Ground Zero for Molestation in the Catholic Church
     In an article found on the website, bishop accountablility.org, which has since been deleted from their webpage since it the article is so old.  In Jemez Springs, New Mexico, the Catholic church conducted clandestine research of its own.  For four decades, the church brought some of its worst pedophile priests there to be treated in the monastery by the river.  They were given drugs to suppress their sex drives, they were told to act out their deepest fears in theatrical therapy sessions, they were couseled, and they prayed.

     The church believed that it would rehabilitate them and then they would reassign their sex offenders.  It failed and New Mexico had an explosion of sexual abuse cases.  Many chidren in the 1990's, numbering in the hundreds, came forward and claimed that they were molested by priests who had been treated at the monestary.  All from the state of New Mexico.  The Diocese of Santa Fe was on the brink of bankruptcy, because more than 200 civil suits were won and it was forced to pay out almost $50 million in settlements.
Old article no longer available on website
Vatican Priest Likens Criticism Over Abuse to Anti-Semitism
     In an article found on the New York Times website, written on April 2, 2010, it claimed that at a Good Friday service, a senior Vatican priest that was speaking before Pope Benedict XVI, compared the sexual abuse scandals in the Catholic Church and the world's outrage over them, to the persecution of the Jews. Needless to say, that it prompted alot of angry responses from Jewish groups and victim advocates. Of course, the Vatican quickly distanced themselves from the remarks. 
For more on this article visit the link below:
Jew's Blamed for pedophile priest scandal by Catholic Bishop
     In an article found on Wordpress.com written on Tuesday, April 13,2010.  The Roman Catholic Church has been under one sex abuse scandal after another so in an effort to deflect responsibility and protect themselves, Bishop Giacomo Babini of Grosseto, Italy was quoted as saying that he believes it is all a "Zionist attack" on the pope.  The article went on to say that they got their information from the Catholic website Pontifex, and Babini was quoted as saying:
"They do not want the church, they are its natural enemies. Deep down, historically speaking, the Jews are God killers."
To read more of the article follow this web link.